'As polls have attested [traditional Labour voters] rejected Labour because it had become a party that derided everything they loved.'
(John Gray in The New Statesman)
As of January 2020, Labour has 580,000 registered members, giving it the largest membership of any party in Europe, and yet it has just suffered its worst election defeat since 1987. How do we reconcile these contradictory facts?
Trying to make sense of Labour's catastrophic defeat in the 2019 General Election has prompted a flood of articles and analyses, most of which rightly focus on the distorting effects of Brexit. But I was fascinated to read several articles, by writers from the Left and the Right, which also attribute the defeat to more profound changes which have taken place in the Labour Party itself, that:
The decline of the traditional, manual-labouring working class, the decline in Trades Union membership and the increasing diversity of types of work and workplace, with the rise of part-time and zero hours contracts, now mean that the only section of society which Labour can entirely rely on is the vote of students, academics and middle-class, urban, university-educated progressives – writers, artists, film-makers, actors and the like – in other words, the cultural élite.
Students and academics and artists and film-makers are vastly more woke and concerned about the cultural issues which make up political correctness – feminism, #metoo, Black Lives Matter, LGBT+ issues and trans rights – these issues matter hugely more to them than to the rest of the population. Why? Because they're well fed, they have the time, and the education.
John Curtice is Professor of Politics at the University of Strathclyde and Senior Research Fellow at the National Centre for Social Research. His article in the Spectator (in fact extracts from a speech) is measured and cautious, but includes the following revealing statements:
Where does the [Labour] party go from here? Well, you certainly need to understand where you are at. This is no longer a party that particularly gains the support of working-class voters. Although it does still do relatively well in places that you might call working-class communities. This, at the moment, is a party that has young people, it has graduates, and their distinctive characteristic is that they are socially liberal. These are the people who are remain-y. These are people who are not concerned about immigration…
… now the party should run with the grain of what its got, which is young, socially liberal, university-educated voters…
This is where source of the new members who flocked into the Labour Party as it became clear that Jeremy Corbyn was running for leadership in 2015: young, socially liberal, aware and radical students or former students, who elected and then re-elected the old school, radical Socialist leader, Jeremy Corbyn.
So if it has such an enormous membership, why did Labour lose so badly? Obviously Brexit played a large part, but so – every single post mortem and account of anyone who canvassed on the doorsteps indicates – did the public's profound dislike and distrust of Jeremy Corbyn himself.
To put in bluntly: the half million or so members of the Labour Party repeatedly voted for a leader who was shown time after time to be incompetent and unelectable. And in so doing cemented the shift from Labour being a party of the working class, to it becoming a party which mostly represents the bien-pensant, socially liberal, urban, professional middle classes.
I very much enjoy Gray's detached scepticism. Like me, he starts from the belief that humans are only another type of animal, mammals who happen to be able to stand up, speak and make things and as a result have developed an over-inflated sense of their own importance, but whose main achievement, in the long run, may turn out to be making planet earth uninhabitable.
Gray rightly gives pride of place to Brexit in this long analysis of what went wrong for Labour. But it is set in the context of a broader attack on the self-defeating progressive strain within the party.
He starts by enjoying the way the progressive liberal-minded politically correct have been shocked to discover that they don't own the electorate and that things don't appear to be smoothly trundling along fixed railway lines towards their version of a progressive Nirvana.
For the two wings of British progressivism – liberal centrism and Corbynite leftism – the election has been a profound shock. It is almost as if there was something in the contemporary scene they have failed to comprehend. They regard themselves as the embodiment of advancing modernity. Yet the pattern they imagined in history shows no signs of emerging. Any tendency to gradual improvement has given way to kaleidoscopic flux. Rather than tending towards some rational harmony, values are plural and contending. Political monotheism – the faith that only one political system can be right for all of humankind – has given way to inescapable pluralism. Progress has ceased to be the providential arc of history and instead become a prize snatched for a moment from the caprice of the gods.
He is describing that state of blank incomprehension and incredulity which we have seen all across the progressive cultural élite (writers, commentators, film-makers, actors, playwrights, poets, novelists and academics) ever since Leave won the Brexit referendum (23 June 2016).
The root cause is because progressives don't understand that the majority of people are not like them – didn't go to university, don't agonise every day about the slave trade and trans rights, don't have cushy office jobs writing books and articles.
Because many people in Britain struggle to earn enough to keep a roof over their heads and feed their children. Many people never read books or magazine articles and only read newspapers for the football and racing results. In fact many people in this country – up to 8 million adults, a fifth of the population – are functionally illiterate. (Adult Illiteracy In The UK)
Ignoring these most basic facts about the country they live in and the people they live among, progressives think everyone is like them, deep down, whether they know it or not – because progressives are convinced that their values are the only correct values and so must inevitably triumph.
Given this mindset, the only reason they can conceive for their repeated failures is that it's all due to some right-wing conspiracy, or Russians manipulating the internet, or the first past the post system, or the patriarchy, or the influence of the right-wing media, or institutional racism, or any number of what are, in effect, paranoid conspiracy theories.
A much simpler explanation doesn't occur to them: that the majority of the British people do actually pretty much understand their ideas and values and simply – reject them.
Gray makes a detour to demolish the progressive case for changing the electoral system, the case the Liberals and Social Democratic Party and then the Lib Dems have been making all my adult life.
Because they don't understand the nature of the population of the country they live in, Gray says, it rarely crosses the progressive mind to consider that, if we introduced some other form of electoral system such as proportional representation, it would in all probability not usher in a multicultural Paradise, but might reveal the electorate as being even more right-wing than we had imagined. Progressives easily forget that in the 2014 election UKIP won nearly 4 million votes. If we had an elementary system of proportional representation, that would have given them 80 MPs!
Progressives talk of building the kind of majority they want, as if it somehow already latently exists. More likely, parties of the far right would set the political agenda, as they do throughout much of the continent. If you want a European-style voting system, you get a European style of politics.
Sceptics love ironies and Gray is a turbo-charged sceptic, he revels in paradoxes and ironic reversals. Thus he enjoys the idea that Tony Blair's enthusiasm for modernising New Labour, for the glamorous appeal of a global economy and for the unlimited immigration which went with it, ended up shafting his own party.
New Labour's unthinking embrace of globalisation and open borders produced the working-class revolt against economic liberalism and mobilised support for Brexit.
A key element of this has been the unforeseen consequence of Blair and Brown's idea to send 50% of the British population to university.
The result over the past fifteen years or so has been a huge increase in the number of young people with degrees, people who – if they did a humanities degree, certainly – will have been exposed to an exhilarating mix of Western Marxism, feminism, anti-racism, post-structuralism and the whole gamut of progressive ideas which come under the rubric of 'Theory' or 'Critical Theory'. (What is critical theory)
I feel confident of this terrain since this is precisely the exhilarating mix of ideas which I absorbed as an English student back in the 1980s, when we thought reading Roland Barthes and Jacques Lacan and Walter Benjamin and Jacques Derrida would somehow sort out the Miners' Strike and overthrow Mrs Thatcher, much like the rioting students of 1968 thought that reading Michel Foucault would usher in the Millennium.
But it didn't, did it?
It turns out that clever students reading clever books – devoting months of your life to studying 'the death of the author', Gramsci's theory of cultural hegemony or Derrida's notion of deconstruction – doesn't really change anything. And then they all go out into the real world and become lawyers and accountants. Or TV producers and writers. Or they remain in academia and teach this self-reinforcing and weirdly irrelevant ideology to a new generation of young acolytes.
Gray devotes a central section of his essay to the baleful impact which contemporary woke academia and the progressive ideology it promotes have had on actual politics.
If only people aged between 18 and 24 had voted in the general election, Corbyn would have won an enormous majority. No doubt this is partly because of Corbyn's promise to abolish student tuition fees and the difficulties young people face in the housing and jobs markets. But their support for Corbyn is also a by-product of beliefs and values they have absorbed at school and university. According to the progressive ideology that has been instilled in them, the West is uniquely malignant, the ultimate source of injustice and oppression throughout the world, and Western power and values essentially illegitimate.
Humanities and social sciences teaching has been largely shaped by progressive thinking for generations, though other perspectives were previously tolerated. The metamorphosis of universities into centres of censorship and indoctrination is a more recent development, and with the expansion of higher education it has become politically significant. By over-enlarging the university system, Blair created the constituency that enabled the Corbynites to displace New Labour. No longer mainly a cult of intellectuals, as in Orwell's time, progressivism has become the unthinking faith of millions of graduates.
When Labour voters switched to Johnson, they were surely moved by moral revulsion as well as their material interests. As polls have attested, they rejected Labour because it had become a party that derided everything they loved. Many referenced Corbyn's support for regimes and movements that are violently hostile to the West. Some cited anti-Semitism as one of the evils their parents or grandparents had gone to war to defeat. For working class voters, Labour had set itself against patriotism and moral decency.
Compare and contrast Gray's summary with this excerpt from an article by Toby Young, who did some canvassing for a friend standing as a Tory candidate in Newcastle. All the working class people he spoke to said they were going to vote Conservative, often for the first time in their lives. This was partly because many wanted to get Brexit done, but also:
Jeremy Corbyn and his supporters have talked a good deal about winning back these working class voters, but his policy positions haven't been designed to appeal to them. I'm not just talking about his ambivalence on Brexit – there's a widespread feeling among voters who value flag, faith and family that Corbyn isn't one of them. Before he became Labour leader in 2015, he was an energetic protestor against nearly every armed conflict Britain has been involved in since Suez, including the Falklands War. He's also called for the abandonment of Britain's independent nuclear deterrent, the withdrawal of the UK from NATO and the dismantling of our security services – not to mention declining to sing the National Anthem at a Battle of Britain service in 2015. From the point of view of many working class voters, for whom love of country is still a deeply felt emotion, Corbyn seems to side with the country's enemies more often than he does with Britain. (Britain's Labour Party Got Woke – And Now It's Broke)
Immediately after the election I read an interview with a Labour activist in a northern constituency which was home of several army barracks of the British Army. She said many people considered Corbyn a traitor who was a more enthusiastic supporter of groups like Hamas and the IRA than of our own armed forces.
The discrepancy between how woke, over-educated commentators interpreted the Brexit vote and the reality on the ground was epitomised by disputes about whether it involved some kind of nostalgia for the British Empire. I read numerous articles by academics and progressive commentators saying Brexit was the result of entrenched racism and/or nostalgia for the days when Britain was Great.
But on Radio 4 I heard Ruth Smeeth, the Labour MP for Stoke-on-Trent North, saying she'd been reading London-based, college-educated commentators claiming that the people who voted Brexit were nostalgic for the British Empire, and went on quite crossly to say people voting Brexit had nothing to do with the bloody British Empire which hardly any of them remember…
It's because where they live there's widespread unemployment, lack of housing, the schools are poor, the infrastructure is falling to pieces and they just think they've been ignored and taken for granted by London politicians for too long. And being told they're ignorant white racist imperialist chavs by posh London liberals doesn't exactly help.
This is the problem Rebecca Long-Bailey tried to address a few weeks ago when she called for a patriotic progressivism. She had obviously seen how Corbyn's support for Britain's enemies lost him huge swathes of working class support, the support of not only soldiers and sailors and air force personnel, but all the families of those people, the average squaddie and seaman who have often come from rough working class backgrounds and for whom a career in the services, with the training which goes along with it, is a welcome way out of a life of low expectations.
But on 'patriotism' Long-Bailey is caught between two forces, the common sense views of the majority of the British public and the hyper-liberal progressive values of the modern Labour Party's middle-class and student base. Just as she is on transgender rights and anti-Semitism and dwelling endlessly on the evils of the slave trade – because the majority of the population doesn't hold these views, but the majority of the Labour Party's young, indoctrinated, politically correct students and graduates (the ones John Gray describes) very powerfully do hold all these views.
They have been taught by their lecturers and professors that the British Empire was the worst thing in world history, worse than the Nazis and Stalin and Pol Pot, and that Britain only has any industry or prosperity because of the slave trade, and that all British institutions (starting with the police, the army and the judiciary) are institutionally racist and sexist – just as they think trans rights are one of the key issues of our time, and are vehemently anti-Israel and pro-Palestine – the attitude which lies behind the lamentable rise of anti-Semitism in the modern Labour Party.
Here's an excerpt from an article in GQ lamenting the big hole Labour has dug for itself by identifying with progressive anti-patriotism, and essentially agreeing with the John Gray and Toby Young analyses:
Much has been made of Labour leadership hopeful Long-Bailey's reference to "progressive patriotism", a phrase which wants to have its cake and eat it, but ends up satisfying nobody. The fact that she felt compelled to mention at all it suggests a cultural jolt is underway. In this context, "progressive" is being used to soothe her suspicious supporters, to help them hold their noses when discussing something as demeaning as patriotism. For the millions of voters Labour has lost, patriotism is not and has never been a problem, so dressing it up in the frills of progressive politics not only neuters the idea, but insults their intelligence. (Boris Johnson has won the culture war… for now by George Chesterton in GQ magazine)
Who can forget Emily Thornberry's tweeted photo of a white van parked outside a house displaying the English flag while she was out canvassing in Rochester, a photo which neatly embodied both the anti-patriotic instincts of the Labour high command, as well as their Islington middle-class contempt for the actual working classes they so ludicrously claim to represent.
Thornberry was forced to resign from the shadow cabinet as a result of this tweet and this image, but she was, of course, taken back into the cabinet a year later, and until very recently was one of the candidates to become next Labour leader. Who needs any additional proof of the Labour Party top cadres' contempt for the 'patriotic', 'white', 'working classes', three terms which, in the last decade or so, have become terms of abuse within progressive ideology.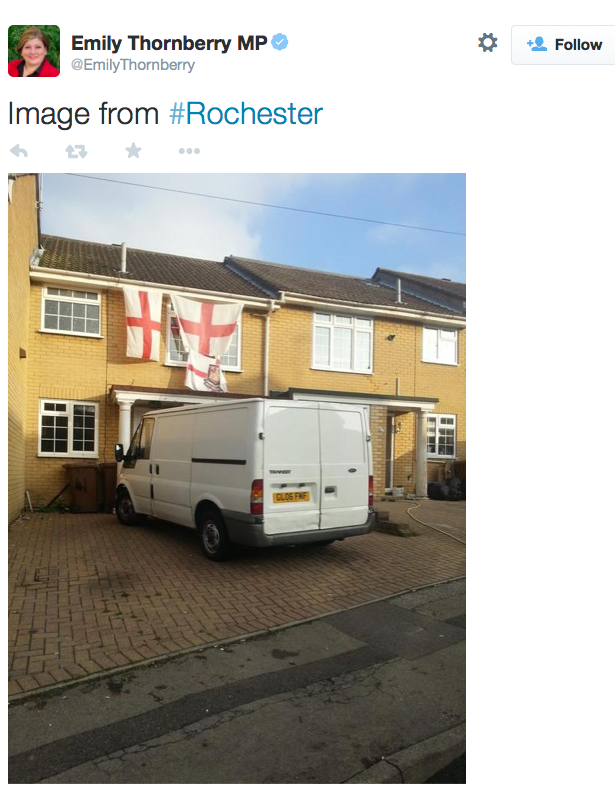 Towards the end of his essay Gray skewers politically correct progressives with a vengeance:
Liberal or Corbynite, the core of the progressivist cult is the belief that the values that have guided human civilisation to date, especially in the West, need to be junked. A new kind of society is required, which progressives will devise. They are equipped for this task with scraps of faux-Marxism and hyper-liberalism, from which they have assembled a world-view. They believed a majority of people would submit to their vision and follow them. Instead they have been ignored, while their world-view has melted down into a heap of trash. They retain their position in British institutions, but their self-image as the leaders of society has been badly shaken. It is only to be expected that many should be fixated on conspiracy theories, or otherwise unhinged. The feature of the contemporary scene progressives fail to understand, in the end, is themselves.
Given the grip of these progressive zealots over the party base, it is going to be difficult to create a coherent Labour Party ideology which can reunite its alienated working class voters, especially in the North, with the liberal, middle-class progressives of the bourgeois south.
And then Gray ends his essay with a calculated insult designed to infuriate the kind of woke progressives he is describing, suggesting that to a large extent their vehement espousal of women's rights, black rights, Muslim rights, LGBT+ rights, trans rights and so on were in fact, in the end, the convenient posturing of cynical careerists who could see that it would help their careers as actors and film-makers and TV presenters and artists and gallery curators and so on to adopt the latest progressive views but who might, given the right-wing drift of the times, be prepared to abandon them… for the right price.
Faced with the possibility of a decade or more of Conservative rule, Britain's cultural establishment may change its complexion. As well as an identity, progressive views have been a means of advancement in the academy, the arts and broadcast media. With the funding position of cultural institutions under review, the usefulness of progressivism as a career strategy may be about to decline.
As satirical insults go, this is quite funny, as funny as anything in Swift or Pope, but I think it's wrong.
In my opinion progressives will continue painting themselves further and further into a virtuously woke corner, and in doing so permanently undermine the ability of a Left-of-centre government to ever return to power.
Conclusion
The point of this blog post is not to present conclusive evidence for my thesis. There is a world of evidence for countless other positions and I've mostly omitted the importance of Brexit which might turn out to have caused a one-off temporary alignment of British politics which then gently returns to its basic two-party model, all the commentators I've quoted say that is a possibility.
And I'm always ready to accept the possibility that I am simply wrong.
The main point of this brief commentary on John Gray's article is more to explain to readers the thinking underlying my response to books and exhibitions which embody progressivee ideology i.e. which go out of their way to criticise Britain, Britain's armed forces, the British Empire, white people, men, and straight people.
My points are:
1. The progressive academics and writers and artists and film-makers and gallery curators who use 1960s sociological terminology to attack British history, British heritage, the British Empire and British values, and who quote feminist and post-colonial rhetoric to attack men, the patriarchy, the male gaze, heteronormativity, Britain's racist society and so on – they quite clearly think that History is On Their Side and that each one of their critical and minatory articles, works of art, films and exhibitions, are chipping away at the white, patriarchal, racist Establishment which, because of their efforts, will one day crumble away and reveal a multicultural Paradise in which the male gaze and inequality and manspreading have all been abolished.
2. But not only is this not very likely to happen, but the General Election of 2019 (and the Brexit vote and, if you want to drag the Yanks into it, the election of Donald Trump) suggest the precise opposite: that there is no such thing as history being on anyone's side, that events take their own course regardless of anyone's intentions, that their victory is far from inevitable. I entirely agree with Gray's fundamental interpretation of human history which is things change, they change all the time and often at bewildering speed – but they don't necessarily change for the better. To believe they do is a fundamentally Christian idea, based on the notion that History has a purpose and is heading towards a glorious endpoint, the Revolution, the Return of the King, the creation of a fair and just society.
But it's not. It never has been and it never will. To believe otherwise, contrary to all the evidence of human history, is to have precisely the same kind of 'faith' as Christians and other religious believers do in their consoling ideologies. It is not, in other words, to live in the real world which we all actually inhabit.
3. And lastly, as the various writers quoted above suggest, there is plenty of evidence that, if anything, the metropolitan, liberal, progressive élite of artists and actors and film-makers and writers and gallery curators and their relentless insistence on woke issues actively alienates the majority of the population.
The majority of the population does not support its victim-grievance politics, its disproportionate concern for refugees and immigrants and every other minority cause, its excessive concern for the Palestinians and the black victims of the American police. Who gives a damn about all that (the overwhelmingly white, London, liberal middle classes, that's who).
On the contrary most of the polling evidence shows that the majority of the British population just wants someone to sort out the NHS, and the police, and crack down on crime, and control immigration, and improve their local schools. Much the same issues, in other words, as have dominated all the general elections I can remember going back to the 1970s, and which a huge swathe of working class and Northern voters didn't believe the Labour Party was capable of delivering.
The sound of losers
So it is this real-world political analysis which explains why, when I read yet another book by a left-wing academic attacking the British Empire or the slave trade i.e. fighting battles which were over generations or hundreds of years ago – or when I visit another exhibition about the wickedness of straight white men, or read another article explaining why I should be up in arms about the rapacious behaviour of Hollywood film producers, my first reaction is: this is the rhetoric of losers.
Not 'losers' in the playground, insult sense. I mean it is, quite literally, the rhetoric of the over-educated minority of the population who keep losing elections, who lost the last election, and the three before that, and the Brexit referendum. It is the sound of people who keep losing. Any way you look at it, the progressive Left's record is appalling.
2010 General Election = Conservative-led coalition
2015 General Election = Conservative government
2016 Leave wins the Brexit referendum
2017 General Election = Conservative government
2019 General Election = Conservative government
In order to win elections in a modern Western country you need to build coalitions and reach out to people, all kinds of people, imperfect people, people you don't like or whose values you may not share or actively oppose, in order to assemble what is called 'a majority'.
The woke insistence on an utterly pure, unstained and uncontaminated virtue – a kind of political virginity test – militates against this ever happening.
So all this explains why, when I visited the Barbican gallery's exhibition Masculinities: Liberation through Photography and read its wall labels:
attacking traditional notions of masculinity
attacking men for running the Patriarchy and for their male gaze and for their manspreading and mansplaining and their toxic masculinity (in case you think I'm exaggerating, there is a section of the exhibition devoted to manspreading, and several displays devoted explicitly to toxic masculinity)
attacking white people for their institutional racism
attacking straight people for their homophobia
and attacking heteronormative people for their transphobia
I very simply concluded that this is not how you reach out and build alliances. This is not how you create coalitions. This is not how you win political power.
This is how you create a politically correct ivory tower, convinced of your own virtue and rectitude – this is how you propagate an ideology which objectifies, judges and demonises the majority of the population for what you claim to be its sins of sexism, racism, misogyny, homophobia, transphobia and so on.
What I felt was that exhibitions like this are part of the much broader anti-British, anti-white, anti-straight, anti-family, anti-tradition cultural message being pumped out across all channels and all media by a London-based, university-educated, progressive élite, which worships American gay and black and feminist art, but which – when it came to the crunch – repelled huge numbers of traditional Labour Party voters and helped deliver the Conservative Party its biggest electoral victory since 1987.
Quite frankly this scares me. It scares me because I wonder whether the decline of the old manual-labouring working class, the disappearance of all the old heavy industries I grew up with – coalmining, steelmaking, shipbuilding, car manufactring – the casualisation and zero contract nature of so much modern work, the loss to Labour of the so-called Red Wall constituencies, the loss of Scotland dammit, combined with the sustained attack on all forms of traditional belief by the metropolitan cultural élite and the reduction of Labour support to the progressive middle classes of the big English cities – London, Bristol, Brighton…
All these social, economic and cultural changes hardly make me think we're on the verge of some glorious multicultural, post-patriarchal age of Aquarius which progressive ideology promises if only we can smash the patriarchy and reclaim the night and free the nipple and stand up for trans rights and welcome tens of thousands more refugees into the country…
It all makes me wonder whether the Labour Party will ever hold power in Britain again.
And, more specifically, whether the kind of progressive art élite I'm describing is destined to become a permanent minority, stuck like a cracked record in its reverence of 'transgressive' and 'rebel' art by black and feminist and gay and trans artists from New York and Berlin and Seoul, luxuriating in its rhetoric of 'subversion' and 'challenge' and 'interrogation', while in reality being completely ignored by the great majority of the population or, if it makes any impression at all, simply contributing to the widespread sense that a snobbish progressive London élite is looking down its superior nose at the lifestyles, opinions and patriotic beliefs of the great majority of the working class, while hypocritically keeping all the money and power, the best schools, the private hospitals and the plum jobs for themselves.
---
Related links
Here is an article by Owen Jones in the Guardian which soundly rejects the position I've sketched out. I agree with him that just because Labour lost is no reason to blame it on the various minorities which have achieved huge advances in freedom and reality over the past 30 or 40 years. I'm not blaming the minorities: I'm blaming the middle-class cultural élite which has prioritised trendy minority issues at the expense of the bread-and-butter issues which affect real communities the length and breadth of the land.
Also, analysing Jones's piece, it is notable for being relatively light on psephological data i.e, quantitative or qualitative analysis of the 2019 election, and relies on going back to the 1970s and 1980s to dig up ancient examples of dated bigotry. In other words, it sounds good but unintentionally exposes the weakness of its own position. The 1970s were a long time ago. I was there. They were awful. But it's 2020 now. Crapping on about 1970s bigotry is similar to crapping on about the British Empire or the slave trade – it's enjoyable, makes us all feel virtuous, but avoids the really difficult task of explaining how you are going to tackle entrenched poverty and inequality NOW.
Related blog posts